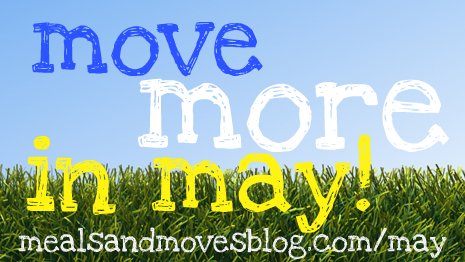 8 years ago, I got my first pedometer. The company my mother works for was giving them away as a fitness challenge to employees and if my Mom sees a give away she tends to think of everyone she could give them to and gets each person two each. So I got a pedometer, or two, perhaps three. You really can't have too many pedometers you know. The challenge was to walk 10,000 steps a day. Well, 8 years ago, I was teaching 4th grade. Needless to day I blew the top off of these steps. 10,000 steps happened before lunch.
Now I work in an office. I sit, a lot. I swear my butt is expanding to fit my office chair. I assure you, office chair ass is not a good look. So when I came across "Move More in May" on the
Meals and Moves
blog I thought I might join in. This challenge is to move more beyond what your daily workout would be. It can be small things or large things but its all about getting off our butts. At work I ample opportunity to sit I also have ample opportunity to take the stairs throughout the day. These stairs are no joke and I haven't met a person who can do all six flights without losing their breath. I could also vacuum more, garden more, take the dog for longer walks, walk during lunch. There plenty of opportunities and in the case of this contest, prizes! I'm focusing on moving more in May...how about you??